Pussy Riot's lawyer to file new appeal against Moscow court decision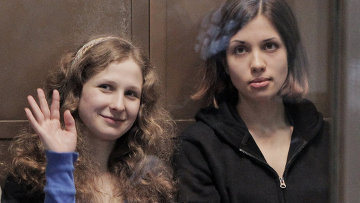 15:10 08/04/2013
MOSCOW, April 8 - RAPSI, Maria Petrova. Pussy Riot members Maria Alyokhina and Nadezhda Tolokonnikova plan to appeal the decision of the Moscow City Court, which dismissed previous pleas to reverse their sentences, their lawyer Irina Khrunova told RAPSI on Monday.
Presiding Judge of The Moscow City Court Olga Yegorova said she may mitigate their sentences on the NTV station's Central Television show on Sunday. She added that "it would be premature to state whether or not there are elements of a crime here because the lawyers will most likely file their complaints."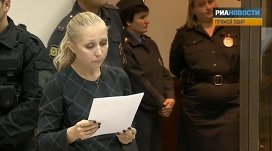 © RAPSI
Irina Khrunova
"Irrespective of public statements, lawyers and their clients have the right to use all legitimate methods to appeal the verdict," Pussy Riot's attorney Irina Khrunova commeneted. "The Moscow City Court has dismissed our appeal, but we will file a new complaint - and this time with the Supreme Court."
In late February 2012, five young women wearing brightly colored balaclavas staged a "punk-style" prayer in Moscow's Christ the Savior Cathedral. An edited video of their performance was posted on the Internet and caused a public outcry.
In August 2012, the Khamovnichesky District Court sentenced Tolokonnikova, Alyokhina and fellow Pussy Riot member Yekaterina Samutsevich to two years in a prison settlement for hooliganism. In October 2012, the Moscow City Court changed Samutsevich's verdict to a suspended sentence and released her immediately based on her new lawyers argument that she had been seized by security guards prior to reaching the altar and therefore did not actually take part in the performance.
Alyokhina's and Tolokonnikova's sentences were upheld.