Pussy Riot's Alyokhina transferred out of isolation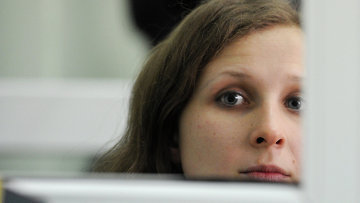 14:44 26/04/2013
PERM, April 26 (RAPSI) - Imprisoned Pussy Riot member Maria Alyokhina was moved to a regular cell on Thursday in accordance with a court judgment which invalidated the prison administration's decision to transfer her to isolation, the penitentiary service told RIA Novosti on Friday.
Alyokhina is serving a two-year sentence for a hooliganism conviction based on her participation in Pussy Riot's now infamous "punk rock prayer" at the Christ the Savior Cathedral in central Moscow.
Alyokhina and her attorneys previously complained that she is being held in prison with hardened criminals and requested that she be isolated from the general prison population.
In November, Alyokhina was moved to isolation. The prison administration allowed her to remain there for an additional 90 days after her first maximum term in isolation expired. The prosecutors stated, however, that the decision was a violation of the rules and suggested moving Alyokhina to a different prison instead.
In late February 2012, five young women wearing brightly colored balaclavas staged a "punk-style" political prayer in Moscow's Christ the Savior Cathedral. An edited video of their performance was posted on the Internet and caused a public uproar.
Alyokhina, Nadezhda Tolokonnikova and fellow band member Yekaterina Samutsevich were arrested shortly thereafter. On Aug. 17, 2012, the Khamovnichesky District Court in Moscow sentenced them to two years in a prison settlement for hooliganism. On Oct. 10, 2012, the Moscow City Court changed Samutsevich's sentence to a suspended sentence, and released her immediately, based on her new attorneys' argument that she was seized by security guards prior to reaching the altar and did not actually take part in the demonstration.
Alyokhina's and Tolokonnikova's sentences were upheld.