Opposition leader Sergei Udaltsov to remain under house arrest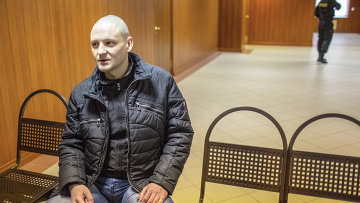 13:43 29/04/2013
MOSCOW, April 29 (RAPSI) - The Moscow City Court has upheld the house arrest of opposition activist Sergei Udaltsov, who is accused of planning mass riots in Moscow, RAPSI reports from the courtroom on Monday.
The court has thus rejected his lawyers appeal to replace his house arrest with travel restrictions. The Basmanny District Court earlier extended Udaltsov's detention until August 6.
Udaltsov's attorney, Violetta Volkova, argued that there was no reason to keep him under house arrest and offered a bail of 1 million rubles ($32,000). She also pointed out the excessive restrictions imposed on her client.
"The court has chosen a very harsh version of house arrest, not even allowing him to take walks outside his house or receive correspondence," she said."Meanwhile, the investigators contact him by mail, so he never receives notifications of the hearing dates."
Udaltsov himself asked for permission to take walks because he does not have any way to take exercise.
Udaltsov has been accused of organizing riots and using violence against police during a rally on May 6, 2012 in Moscow's Bolotnaya Square and organizing mass riots in Russia.
In October 2012, he was ordered not to leave the city. On February 8, investigators requested to have him placed under house arrest, as he allegedly violated the former ruling.
Udaltsov is being prosecuted as a result of a probe into the circumstances portrayed in the highly controversial "Anatomy of Protest-2" documentary film. The film claims that Udaltsov and his supporters planned to stage mass riots and a coup using funding from the Georgian leadership, which has long been at odds with President Vladimir Putin's government.