Pussy Riot's Alyokhina denied parole, again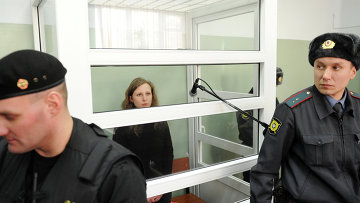 16:19 24/07/2013
MOSCOW, July 24 (RAPSI) - Pussy Riot member Maria Alyokhina's latest bid for parole has been denied by the Russia's Perm Region Court, RAPSI reports live from the courtroom.
Alyokhina had wanted to attend the hearing, which is being presided over by a panel of three judges, but was unable to for reasons that remain unclear. The hearing was thus carried out via video conference.
Alyokhina herself - speaking from a pretrial center that she was transported to from her penal colony - raised the issue at the start of the hearing. Seeking the presiding judges' recusal, Alyokhina interpreted the decision as one reflecting bias.
The judges retreated to consider Alyokhina's request, but opted not to recuse themselves.
In all, nearly five hours were devoted this morning to dealing with complaints and motions before the hearing was able to properly get underway. Many such motions arose from the defense team's many requests for portions of the case file. Specifically, the defense team wanted to refer certain documents during the course of the hearing.
Alyokhina's efforts were in fact an appeal of an earlier ruling. In April, her request for parole was denied by Mordovia's Zubovo-Polyansky Court, a decision upheld the following month by the Perm Region's Bereznikovsky Court.
In February 2012, five young women wearing brightly colored balaclavas staged a punk rock prayer in Moscow's Christ the Savior Cathedral. An edited video of their performance was posted on the Internet and caused a public outcry.
In August 2012, the Khamovnichesky District Court in Moscow sentenced Alyokhina and two other Pussy Riot members - Nadezhda Tolokonnikova and Yekaterina Samutsevich - to two years in a prison settlement on charges of hooliganism.
In October 2012, the Moscow City Court suspended Samutsevich's sentence and released her immediately based on her new attorneys' argument that she had been seized by security guards prior to reaching the altar.
The sentences of Alyokhina and Tolokonnikova were upheld.
In April 2013, the Zubova Polyana District Court in Mordovia rejected Tolokonnikova's request for parole. Alyokhina's request for parole was rejected by the Berezniki court on May 23.
Alyokhina staged a hunger strike which lasted 11 days to protest against the fact the she was not allowed to attend the hearing into her parole request.