Opposition activist Udaltsov to remain under house arrest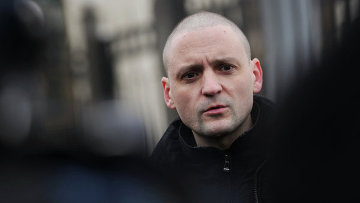 12:32 02/10/2013
MOSCOW, October 2 (RAPSI) – Basmanny District Court of Moscow granted the investigation's motion to extend the house arrest of Left Front leader, opposition activist Sergei Udaltsov.
Udaltsov's lawyer Violetta Volkova told the court that the defense team and the defendant were reading the case materials in preparation for the trial, and there was no grounds to keep Udaltsov under house arrest. "We've gone through 65 tomes of the case, and all the video. Udaltsov hasn't broken the conditions of his house arrest," – Volkova added.
The criminal case in 2012 May 6 riots was initiated after the "Anatomy of Protest 2" documentary film was shown on the NTV broadcasting network. The film claimed that the opposition was organizing a coup using funds from abroad and showed Left Front movement coordinator Udaltsov and his companions allegedly talking with Georgian politician Givi Targamadze, who at the time headed Georgia's Parliamentary Defense and Security Committee, and is said to have been involved in planning the "color" revolutions in Georgia and Ukraine, as well as the mass riots in Belarus.