Convicted Moscow rioter sentenced to compulsory psychiatric treatment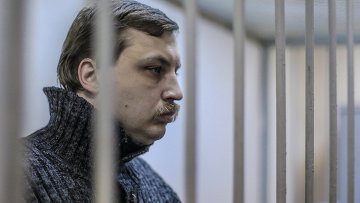 16:29 08/10/2013
MOSCOW, October 8 (RAPSI) - Mikhail Kosenko has been convicted of participating in the riots that engulfed central Moscow in May 2012, and in turn injuring a police officer, and has been ordered to carry out compulsory psychiatric treatment.
A federal prosecutor demanded earlier this month that Mikhail Kosenko, a defendant in the 2012 Moscow Riots case, should be subjected to compulsory psychiatric treatment. The prosecutor based this request on the assertion that the defendant suffers from a psychological disorder.
At this earlier hearing, the prosecutor had stated that he had no doubt of Kosenko's guilt. According to the prosecution's statement Kosenko "succumbed to the call to riot and took part in the mass public disorder that followed," which resulted him in inflicting minor damage to a police officer's health.
Kosenko has been kept in pre-trial detention since the summer of 2012, and his case was separated from the other rioters.
In September, Kosenko filed a request to attend the funeral of his mother. The request was denied.
The mass protests occurred on the eve of Vladimir Putin's inauguration for a third presidential term in May 2012. The rally culminated in clashes between protesters and the police. Over 400 people were arrested and scores were injured when protesters briefly broke through police lines.
The criminal case was initiated after the "Anatomy of Protest 2" documentary film was shown on the NTV broadcasting network. The film claimed that the opposition was organizing a coup using funds from abroad and showed famous opposition activist Udaltsov and his companions allegedly talking with Georgian politician Givi Targamadze, who at the time headed Georgia's Parliamentary Defense and Security Committee, and is said to have been involved in planning the "color" revolutions in Georgia and Ukraine, as well as the mass riots in Belarus.
A number of related cases are currently underway. Udaltsov has remained under house arrest since February, after having been ordered in October 2012 not to leave Moscow. Defendant Maxim Luzyanin, who pleaded guilty for his role in the riots, was sentenced to 4.5 years in prison.