Ukrainian protest leaders fought alongside Chechen militants – Russian official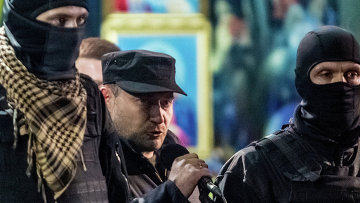 17:58 14/03/2014
MOSCOW, March 14 (RAPSI) – Members of the UNA-UNSO party, including leaders of the recent Ukrainian protests Oleg Tyagnibok and Dmitry Yarosh, are under investigation for participating in armed conflict in Chechnya, official spokesman for the Russian Investigative Committee Vladimir Markin said on Friday.
According to the investigators, UNA-UNSO members participated in the Chechen armed conflict alongside the separatists against Russian federal forces in 1994-1995.
This week, a Russian court issued an in-absentia arrest order for Yarosh, a Ukrainian nationalist leader who allegedly implored a wanted Chechen warlord to mount attacks against Russia.
Yarosh, who is considered to be one of the Maidan protest leaders, stands accused of publicly endorsing extremism and terrorism in connection with a public appeal he is suspected of having made to North Caucasus militant commander Doku Umarov. Specifically, Yarosh stands accused of asking for help with carrying out terror attacks on Russian soil.
Ukrainian National Assembly - Ukrainian People's Self-Defense (UNA-UNSO) is a Ukrainian far-right political movement established in 1990 in Lviv.
Russia has marked the events that have unfolded in Ukraine a coup, and the armed seizure of power. President Vladimir Putin said during a press conference earlier in March that Viktor Yanukovich, who fled to Russia, remains Ukraine's legitimate president.