ECHR accepts complaints from two amnestied Bolotnaya defendants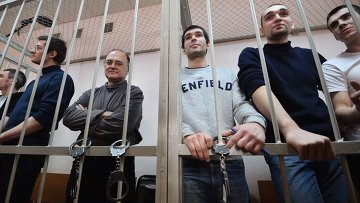 14:56 16/07/2014
MOSCOW, July 16 (RAPSI) – The European Court of Human Rights has accepted complaints from two amnestied defendants in the Bolotnaya Square riot case, Vladimir Akimenkov and Leonid Kovyazin, attorney Dmitry Agranovsky told RAPSI on Wednesday.
Clashes with the police flared up on May 6, 2012 during an officially sanctioned opposition march across Moscow. Dozens of protesters and police officers were injured. The police detained over 400 rally participants. The Investigative Committee opened a criminal case on charges of "mass rioting" and "assaulting public officers."
In February 2014, the Zamoskvoretsky District Court sentenced eight defendants in the Bolotnaya Square riot case to various terms, from a suspended sentence of three years and three months to four years in a penal colony. All the accused were convicted of assaulting police.
Ten defendants, who were not charged with assaulting police, were amnestied in late 2013 and early 2014. One of the defendants, Maxim Luzyanin, was sentenced to 4.5 years' imprisonment in 2012.
In 2013, the Zamoskvoretsky District Court in Moscow ruled that Mikhail Kosenko, who was diagnosed with a mental disorder and released from liability for the Bolotnaya crimes, should undergo mental treatment. He was later released from a mental hospital to continue treatment in an outpatient clinic.