Nationalist leader involved in BTA Bank case faces house arrest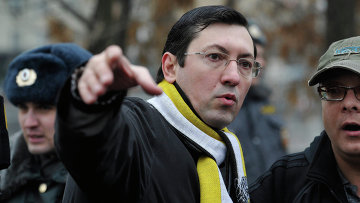 12:01 17/10/2014
MOSCOW, October 17 (RAPSI) – Investigators filed a motion with Moscow's Basmanny District Court to place Aleksandr Potkin, former leader of the Russian nationalist Movement Against Illegal Immigration, under house arrest in the BTA Bank embezzlement case, RAPSI learnt in the court on Friday.
Attorney Mark Feygin told RIA Novosti that the money laundering charge does not contain a pre-trial detention clause, which means that Potkin cannot be placed in jail for the duration of the investigation.
The investigation believes that Potkin, acting on orders from Ex-head of BTA Bank Mukhtar Ablyazov, was involved in managing and laundering the money and assets embezzled from BTA Bank. According to the investigation, Ablyazov embezzled more than $6 billion from the bank.
The nationalist leader also faces extremism charges from the Interior Ministry. The police is preparing to open the case on inciting hatred through the media against Potkin.
Mukhtar Ablyazov fled to the UK after the Kazakh government acquired a stake in BTA in 2009 and the bank came under the control of its sovereign wealth fund, Samruk-Kazyna. Kazakhstan claims that Ablyazov embezzled over $6 billion.
He was detained in July 2013 near Cannes, France. Kazakhstan, Russia and Ukraine are all seeking the extradition of the fugitive banker. In early January 2014, a court in France's Aix-en-Provence ruled to extradite him to Russia or Ukraine, with priority given to Russia.
On April 9, 2014, the criminal chamber of Paris's Cour de Cassation, the court of final appeal for civil and criminal cases in France, ruled to block Ablyazov's extradition because of an administrative error by the court. Specifically, the ex-banker had not signed the official protocol as required.