New charges brought against former Georgian President Saakashvili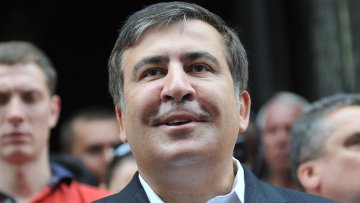 17:25 10/11/2014
TBILISI, November 10 (RAPSI) – Georgia's Main prosecutor's Office has announced additional charges against former President Mikheil Saakashvili, former Prime Minister Vano Merabishvili and other high-ranking officials in a July 2005 case on the beating of MP Valery Gelashvili, RIA Novosti reported on Monday.
Harsher charges in this case have been presented to Irakli Kodua, former chief of a special Interior Ministry department, and Gia Siradze, former head of that department, the Main Prosecutor's Office said in a statement.
Gelashvili was attacked in the summer of 2005, soon after he published an article criticizing Saakashvili that contained abusive comments. According to prosecutors, he was beaten by Georgian commandos and sustained a head injury, broken facial bones and numerous other injuries. Investigators believed the attack was ordered by Saakashvili, Merabishvili, Kodua and Siradze. Criminal cases were opened against them under articles on abuse of power. Kodua and Siradze were also charged with "misappropriating others' guns with the use of violence."
New charges have been brought against Saakashvili and Merabishvili under articles on organizing the infliction of serious injuries, and Kodua and Siradze may face punishment for the infliction of serious injuries by a group of persons and for robbery committed by a group of persons with the purpose of misappropriating property.
Georgia's Main Prosecutor's Office has charged Mikheil Saakashvili in absentia for the alleged embezzlement of about $5 million of government funds for personal use, on abusing power in ordering the dispersal of a demonstration on November 7, 2007, and on the beating of Gelashvili.