Russian Constitutional Court upholds ban on Nazi symbols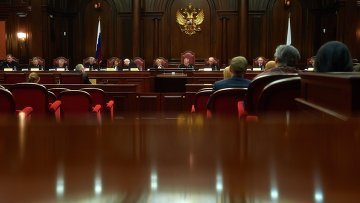 16:12 27/11/2014
ST. PETERSBURG, November 27 (RAPSI, Kirill Chulkov) – Russia's Constitutional Court has upheld the ban on the use of Nazi and similar symbols and attributes, the court said in a statement posted on its website Thursday.
The decision was taken in connection with an application by Vladimir Murashov, who had been fined for wearing Nazi symbols in public.
Murashov appealed against Article 6 of the May 19, 1995 federal law on Immortalizing of The Victory of the Soviet People in the Great Patriotic War of 1941-1945, Article 1 of the July 25, 2002 federal law on Combating Extremist Activity, and Article 20.3 of the Administrative Offences Code.
The applicant said the symbols and marks he used have different meanings for different nations that are not associated with Nazi ideology, and that the ban on using and promoting contradicts constitutional liberties such as the freedom of thought, conscience and religion, and is also insulting to people's religious beliefs and feelings.
The Constitutional Court refused to hear the application, arguing that the use of Nazi symbols and attributes and similar symbols and attributes, irrespective of their origin, can harm the feelings of people whose relatives died in the Great Patriotic War.
The court pointed out that the norms which the applicant is disputing are designed to ensure ethnic peace and accord, to harmonize ethnic relations and to protect the rights and freedoms of others. It also said that there is no ambiguity regarding the norms' compliance with the constitution, and hence they cannot be considered to infringe on the constitutional rights of the applicant.