First hearing in Russian case over Scythian gold may be held in January 2015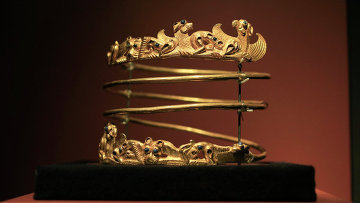 17:27 10/12/2014
MOSCOW, December 10 (RAPSI) – The trial in Amsterdam over the Scythian gold from Crimea is not likely to begin until mid-January, 2015, RIA Novosti reported Wednesday citing Andrei Malgin, director of the Central Museum of Tavrida in Simferopol.
On December 10, the case will be represented in court without the parties in dispute. The first hearing is not expected until mid-January, Malgin said.
In November, four Crimean museums filed with a court in Amsterdam a suit seeking to return the Scythian gold, which was exhibited in the Netherlands, to Crimea.
The exhibition "The Crimea: Gold and Secrets of the Black Sea" opened in Germany in mid-2013 and then moved to the Allard Pierson Museum in Amsterdam in early February 2014. Artifacts from five Crimean museums include a ceremonial gold helmet and jewels.
In March, Kiev demanded the gold be returned to Ukraine, not Crimea, since the latter had voted for independence and later joined Russia. Crimea, however, dismissed the demands as groundless.
The Allard Pierson Museum in Amsterdam decided to keep the disputed collection of Scythian Gold items until the ownership dispute is resolved either amicably or in court.