Vnukovo snowplow driver to remain in detention over Total plane crash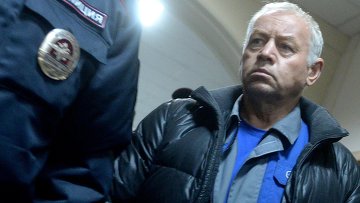 12:52 17/12/2014
MOSCOW, December 17 (RAPSI) – The Moscow City Court on Wednesday upheld the detention of Vnukovo snowplow driver Vladimir Martynenko charged in the criminal case over Total CEO Cristophe de Margerie's death, RAPSI reports from the courtroom.
The court thus rejected an appeal filed by his attorneys seeking to place the defendant under house arrest. Martynenko will remain in jail until December 21.
Total CEO Christophe de Margerie died in the crash of his Falcon 50 private jet on the evening of October 20 at Vnukovo Airport along with three crew members, all French citizens. The plane, which was scheduled to depart to Paris, hit a snow removal vehicle during takeoff.
Russian authorities earlier detained until December 21 airport engineer Vladimir Ledenev, snowplow driver Vladimir Martynenko and air traffic controller Alexander Kruglov. Air traffic control trainee Svetlana Krivsun and flight supervisor Roman Dunaev were placed under house arrest.
On Tuesday, Moscow's Basmanny District Court extended the pre-trial detention of Dunaev, Ledenev and Krivsun until late April.
The employees of the airport stand accused of violation of air traffic rules which resulted in death of two and more people. They face up to seven years in prison each. All defendants have pleaded not guilty to the charges brought against them.
The investigation into the case has been extended until May 21, 2015.