Death of Total CEO: snowplow driver was sober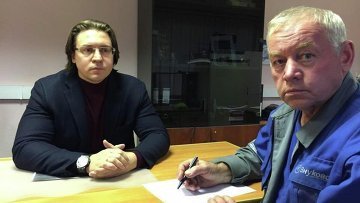 14:20 21/10/2014
MOSCOW, October 21 (RAPSI, Diana Gutsul) - Family of the snowplow driver Vladimir Martynenko involved in the fatal crash which killed Total CEO Christophe de Margerie claims he was sober, lawyer Alexander Karabanov told RAPSI on Tuesday.
"The allegations that he was drunk at the time of the accident are not true. We are in contact with members of his family, and they claim that he does not drink at all... He is aware of the risks of his job. We believe he is being made a scapegoat by officials," Karabanov said. He added that his client should undergo an independent blood alcohol test.
The driver was arrested, he is now interrogated, Karabanov said.
The Falcon business jet attempted to take off when it collided with the snowplow. Christophe de Margerie and three crew members died in the crash which occured on Monday shortly before midnight local time, or 8 p.m. GMT, Russia's emergencies ministry said.
Investigative Committee spokesman Vladimir Markin told journalists earlier the day that there are four versions of the accident, including air traffic control error, a mistake made by a drunken snowplow driver, bad weather conditions, and pilot error. He added that the first two versions were on top.
The Interstate Aviation Committee (IAC) is taking part in the investigation led by the Investigative Committee. The crash scene was examined by the specialists, documents for the aircraft seized, eyewitnesses from among the Vnukovo airport staff are being interviewed.
"The investigative team is working to establish the circumstances and causes of the accident," the committee reported.