Culture minister to represent Crimea at Scythian gold trial in Amsterdam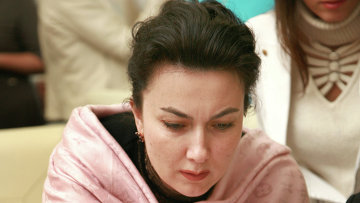 16:40 29/12/2014
MOSCOW, December 29 (RAPSI) – Republic of Crimea Culture Minister Arina Novoselskaya is willing to represent Crimea at a hearing on the return of Scythian gold from the Netherlands in Amsterdam, RIA Novosti reported on Monday. The date for the hearing has not been scheduled yet.
In November, four Crimean museums filed a lawsuit with a court in Amsterdam seeking to return the Scythian gold that was exhibited in the Netherlands to Crimea.
Kiev is demanding that the exhibit items be returned to Ukraine. On December 10, the case was represented in court without the parties in dispute.
Andrei Malgin, director of the Central Museum of the Tauride in Simferopol, Crimea, announced that the first hearing would be scheduled for mid-January at the earliest.
"The date for the hearing has not been set so far. It is a very delicate issue, which is being tackled by the Foreign Ministry and a company hired by the Russian Culture Ministry for this purpose, Iniurcolleguia. It is a major legal firm that is representing our interests. We also have a representative in Amsterdam, but I'm willing to go there personally to protect our interests," Novoselskaya said.
She said the court in Amsterdam was not in a hurry to schedule the first hearing. It keeps requesting additional documents, certificates and photocopies of the stamp that sealed the agreements for exhibiting the gold collection abroad.
Novoselskaya admitted that the return of Scythian gold is a difficult issue for legal and political reasons. She hopes that the court would rule that at least part of the collection be returned to the Crimean museums.
The exhibition "The Crimea: Gold and Secrets of the Black Sea" opened in Germany in mid-2013 and then moved to the Allard Pierson Museum in Amsterdam in early February 2014. The artifacts from five Crimean museums include a ceremonial gold helmet and jewels.
In March, Kiev demanded the gold be returned to Ukraine, not Crimea, since the latter had voted for independence and later joined Russia. Crimea, however, dismissed the demands as groundless.
The Allard Pierson Museum in Amsterdam decided to keep the disputed collection of Scythian Gold items until the ownership dispute is resolved either amicably or in court.
The exhibition closed in late August, but the collection has not been sent back to the Crimean museums because of disputes between Ukraine and Crimea.