Two more members of extremist Islamic organization sentenced in Tatarstan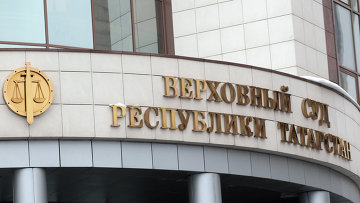 14:50 30/12/2014
MOSCOW, December 30 (RAPSI) – The Supreme Court of Tatarstan, a predominantly Muslim republic in Russia, has handed down guilty verdicts on two members of an extremist Islamic group, RIA Novosti reported on Tuesday, citing Tatarstan's prosecutor general's office.
Emil Gizatullin has been sentenced to six years and Dmitry Kudryavtsev to six and a half years in prison. The court in Chistopol, Tatarstan earlier sentenced Daniil Mukhlisov to five years in prison for assisting the said terrorist group.
On December 26, the Supreme Court of Tatarstan sentenced Rais Shaidullin to 11 years in prison for having joined a terrorist group and abetting terrorism.
The Jamaat-e-Islami group promotes violence (jihad), including terrorist attacks in Tatarstan, to install a radical form of Islam and to create an Islamic state in Russia.
Emil Gizatullin was charged with financing terrorism, joining a terrorist group and not reporting serious crimes.
Investigators found that Gizatullin had been financing Jamaat's terrorist activity for a long time and had also helped with lodgings for its leader, who is on the international wanted list, to evade police.
"The court accepted the prosecution's arguments and sentenced Gizatullin to six years in a minimum security prison and a 50,000 ruble ($882) fine payable to the state," the court said in a statement.
Kudryavtsev's verdict was read out on Monday. He was found guilty of joining a terrorist group and of making homemade explosive substances and devices. The court sentenced him to six and a half years in a minimum security prison.
Gizatullin and Kudryavtsev received less than Shaidullin, who was sentenced to 11 years, because they signed plea agreements.