Muscovite jailed for staging protest, holding 'Je suis Charlie' poster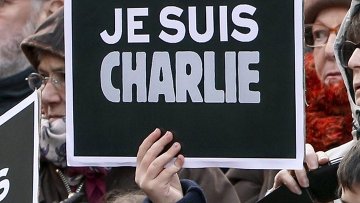 15:41 16/01/2015
MOSCOW, January 16 (RAPSI) – Moscow's Tverskoy District Court on Friday sentenced Muscovite Mark Galperin to 8 days in jail for staging an unuathorised protest in the city, holding 'Je suis Charlie' ('I am Charlie') poster, RAPSI learnt in the court on Friday.
Galperin and another unnamed man organised the protest in downtown Moscow on January 10 without getting a permit from the municipal authorities.
On January 7, French satirical magazine Charlie Hebdo was attacked as two gunmen forced their way into the office of the magazine in Paris and opened fire, killing 12 and injuring 11.
Most of the victims worked at the magazine, including editors and nationally famous cartoonists Stéphane Charbonnier ("Charb"), Jean Cabut ("Cabu") and Georges Wolinski. The terrorist attack killed the largest number of people in France in the past 50 years.
The slogan 'Je suis Charlie' appeared several hours after the attack and made its way around the world.