Russian Liberal Democrats appeal dismissal of defamation suit against Khodorkovsky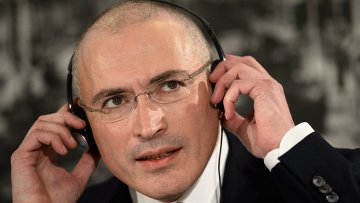 17:15 24/02/2015
MOSCOW, February 24 (RAPSI) – Lawmakers from the Liberal Democratic Party of Russia (LDPR) have filed an appeal against a court ruling to dismiss the lawsuit seeking to collect 10 million rubles (about $162,000) from ex-Yukos head Mikhail Khodorkovsky for discrediting the party's business reputation, press secretary of the Meshchansky District Yulia Bocharova told RAPSI on Tuesday.
Bocharova said the court would hear the appeal on March 24.
The LDPR filed a lawsuit to collect 10 million rubles from Khodorkovsky for writing in his book Prison and Freedom that the "LDPR earns it wages by voting. Directly and cynically."
The party's lawyer said this cost the LDPR part of its political attractiveness and electorate.
Khodorkovsky's representative said the quoted phrase was not negative or defamatory, because earning a living is not prohibited by law. As for "cynically," it is an evaluative term.
The book was co-authored by journalist Natalya Gevorkyan and published in 2012.
The lawmakers said in the lawsuit that Khodorkovsky had "unscrupulously and shamelessly" accused the LDPR of taking money for making a requested vote. The party said that it "respects the law and does not accept funding from dubious sources."
Khodorkovsky, the former head of Russia's largest oil producing company, Yukos, spent a decade in prison in what his supporters and human rights activists saw as a politically motivated case.
He was unexpectedly pardoned in late December 2013 and was flown to Germany the same day.