Ukrainian pilot Savchenko to remain in Moscow pre-trial detention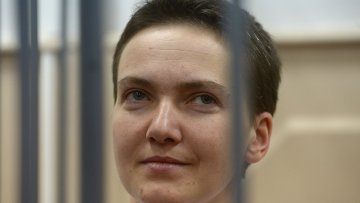 18:05 25/02/2015
MOSCOW, February 25 (RAPSI) - The Moscow City Court on Wednesday upheld the detention of Ukrainian pilot Nadezhda Savchenko who stands accused of complicity in the murder of two Russian journalists, RAPSI reports from the courtroom.
Savchenko's lawyers requested that she be released on her own recognisance, released on bail or placed under house arrest. The Ukrainian consulate vowed to provide her with accommodation.
Savchenko has been in detention since last summer. For the past two months, she has been on a hunger strike to demonstrate her demand that she be returned to her country. Doctors say she is in satisfactory condition. Savchenko is undergoing supportive therapy.
An official spokesman for the Ukrainian Foreign Ministry, Yevhen Perebiynis, said on Tuesday that as a result of the hunger strike, Savchenko's body is undergoing some irrecoverable changes that could cost her life.
Also, OHCHR spokesman Rupert Colville called for Savchenko to be released immediately on humanitarian grounds. The Russian Foreign Ministry claimed the statement was an attempt to influence the court.
Earlier, President Petro Poroshenko of Ukraine announced, at a meeting in Minsk, that the involved parties had supposedly agreed to release Savchenko. Later, Vladimir Putin's Press Secretary, Dmitry Peskov, told RIA Novosti that the Ukrainian pilot's case had not been discussed in detail but that the Ukrainian side had mentioned it and that the Russian President had insisted that it would be resolved in court.