Investigators claim Eskerkhanov ran surveillance on Nemtsov - lawyer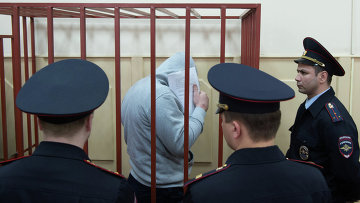 17:43 06/04/2015
MOSCOW, April 6 (RAPSI) - Investigators claim that Tamerlan Eskerkhanov, one of the suspects in opposition politician Boris Nemtsov killing, ran surveillance on him, Eskerkhanov's lawyer said at a hearing at Moscow's Basmanny District Court on Monday.
"Investigators allege that Eskerkhanov was spying on Nemtsov and collecting information on him. Eskerkhanov denies the allegations and claims he did not know any of the defendants except Zaur Dadayev who he says he met by accident. He didn't even know who Nemtsov was and had no interest in politics," his lawyer said, and added that Eskerkhanov met with Dadayev four or five times at a third party's apartment.
The lawyer insisted that one of the key witnesses of the murder allegedly saw a short thin man at the scene of crime that did not look like Eskerkhanov.
"The description of the person who was at the scene and disappeared in a Russian car does not match Eskerkhanov. The description was provided by a witness named Molodykh," the defense lawyer explained.
Previously, investigators had not disclosed Eskerkhanov's role in the crime. It was only known that Zaur Dadayev was believed to have been behind the actual murder. The other defendants are said to be accomplices.
The Investigative Committee provided more detailed information about Khamzat Bakhayev's role. He allegedly provided his accomplices with information and was to provide cover after the murder.
Eskerkhanov denies all the charges and claims that he has never broken the law in his life. He says he has served in law enforcement for 13 years and was injured in the line of duty.
Nemtsov, co-chair of the Republican Party of Russia – People's Freedom Party (RPR-PARNAS) and former first deputy prime minister in the Yeltsin government, was fatally shot as he walked home with a girlfriend in central Moscow late on the night of February 27. He joined the opposition in the 2000s.
Five men were arrested on suspicion of killing Nemtsov: Zaur Dadayev, Anzor Gubashev, Shadid Gubashev, Khamzat Bakhayev and Tamerlan Eskerkhanov.
The alleged killer, Zaur Dadayev, initially pleaded guilty and testified against the other suspects, but later retracted his testimony in court, saying he was coerced to incriminate himself.