All five suspects charged in Nemtsov murder case
Story
Murder of Boris Nemtsov
Nemtsov, co-chair of the Republican Party of Russia – People's Freedom Party (RPR-PARNAS) and former first deputy prime minister in the Yeltsin government, was fatally shot as he was walking home with a woman in central Moscow late on February 27. He joined the opposition in the 2000s.
Five men were arrested on suspicion of killing Nemtsov: Zaur Dadayev, Anzor Gubashev, Shadid Gubashev, Khamzat Bakhayev and Tamerlan Eskerkhanov.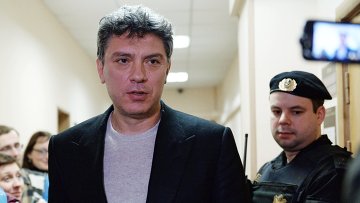 16:51 16/03/2015
Investigators on Monday brought charges against Tamerlan Eskerkhanov and Shadid Gubashev who were detained in connection with murder of Russian opposition leader Boris Nemtsov.
More »