Appeal against refusal to drop charges against Savchenko set for April 17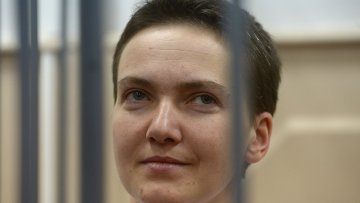 15:52 13/04/2015
MOSCOW, April 13 (RAPSI) – Moscow's Basmanny District Court has set April 17 as the date for an appeals hearing for Ukrainian pilot Nadezhda Savchenko, who stands accused of complicity in the murder of two Russian journalists and wants charges against her to be dropped, RAPSI learnt in the court on Monday.
Savchenko was arrested in Russia last summer on charges of complicity in the murder of two Russian TV journalists during hostilities in Donbas and on illegally crossing the border into Russia.
Her detention has been extended until May 13.
TV correspondent Igor Kornelyuk and sound engineer Anton Voloshin were killed on June 17 in a mortar attack.
Savchenko denies the allegations and claims that she was kidnapped in Ukraine and forcibly transported to Russia.
Her lawyers insist on her innocence and demand to close the case.
Savchenko was elected a member of Ukraine's parliament from the Batkivshchyna Party in October 2014 and approved as a member of the Ukraine mission to PACE in late January 2015.