PACE confirms Savchenko's absolute immunity - lawyer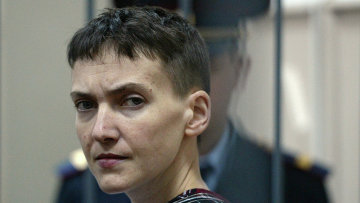 13:27 06/05/2015
MOSCOW, May 6 (RAPSI) - The Parliamentary Assembly of the Council of Europe has confirmed that ex-Ukrainian military pilot Nadezhda Savchenko, as a delegate from Ukraine, is immune to prosecution, a RAPSI correspondent reports from the Basmanny District Court of Moscow.
At the court hearing, attorney Ilya Novikov presented PACE documents stating "the board's belief" that Savchenko holds immunity despite being charged with a crime allegedly committed before her election as a delegate.
However, the Russian Foreign Ministry claims that Savchenko's immunity is only related to her duties and does not concern her actions prior to this status, the lawyer continued.

"The PACE procedural committee confirmed that Savchenko's immunity is absolute. Therefore, she cannot be detained or prosecuted," Novikov said.

The lawyer demanded that the criminal case against Savchenko must be stopped. Moreover, PACE believes she must not only be provided with an opportunity to attend the assembly's sessions but be able to work at PACE any time.

Novikov submitted examples from international practice, according to which arrested or prosecuted delegates of the assembly were released from detention in order to work at PACE.

Russian Foreign Minister Sergey Lavrov earlier commented on the request to release Savchenko and said that she is not a hostage and was arrested on criminal allegations. "In order to pardon an individual the case must be heard by a court and the court must issue a ruling." If the court rules she is innocent "there will be no more questions," Lavrov said.

Savchenko was arrested in Russia last summer on charges of complicity in the murder of two Russian television journalists during hostilities in Donbas and on illegally crossing the border into Russia.

Television correspondent Igor Kornelyuk and sound engineer Anton Voloshin were killed on June 17 in a mortar attack. Official charges were brought against Savchenko on April 24. The final indictment included unlawful crossing of the border with Russia.

Savchenko denies the allegations and claims that she was kidnapped in Ukraine and forcibly transported to Russia.
She was elected a member of Ukraine's parliament from the Batkivshchyna Party in October 2014 and approved as a member of the Ukraine mission to PACE in late January 2015.