Moscow court refuses to drop case against ex-Ukrainian pilot Savchenko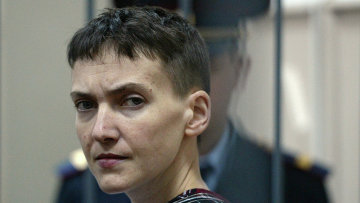 17:04 17/04/2015
MOSCOW, April 17 (RAPSI) – Moscow's Basmanny District Court refused to drop a criminal case against former Ukrainian military pilot Nadezhda Savchenko, who stands accused of complicity in the murder of two Russian journalists, RAPSI reported on Friday from the courtroom.
The court dismissed the arguments presented by Savchenko's lawyers, who claimed that she enjoys immunity as a delegate to Parliamentary Assembly of the Council of Europe (PACE).
Investigators claimed during the hearing that the crime had been committed before Savchenko became a PACE delegation member.
Savchenko once again said that she was innocent. "There is no evidence proving that I killed Russian journalists. I have spent nine months behind bars without a reason," she said.
Investigator Timofei Grachev responded that her guilt had been proved by witness testimony, expert conclusions and other materials gathered by investigators. He added that the Russian Investigative Committee had requested information about Savchenko's alleged alibi from Ukraine.
Savchenko's lawyers provided information about their client's calls (a billing period), according to which she was taken prisoner before the journalists died.
Attorney Ilya Novikov said that the Ukrainian prosecutor General's Office had provided the requested information on March 12.
Savchenko was arrested in Russia last summer on charges of complicity in the murder of two Russian TV journalists during hostilities in Donbas and on illegally crossing the border into Russia.
Her detention was extended until May 13.
TV correspondent Igor Kornelyuk and sound engineer Anton Voloshin were killed on June 17 in a mortar attack.
Savchenko denies the allegations and claims that she was kidnapped in Ukraine and forcibly transported to Russia.
She was elected a member of Ukraine's parliament from the Batkivshchyna Party in October 2014 and approved as a member of the Ukraine mission to PACE in late January 2015.