Refusal to let Savchenko go to PACE session upheld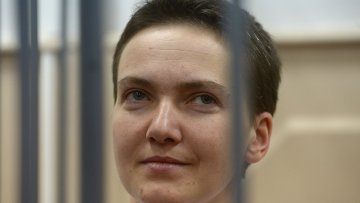 15:16 06/05/2015
MOSCOW, May 6 (RAPSI) – Moscow's Basmanny District Court on Wednesday dismissed an appeal filed by ex-Ukrainian pilot Nadezhda Savchenko the investigative officer's refusal to let her attend PACE sessions, RAPSI reports from the courtroom.
During the hearing Savchenko's attorney Ilya Novikov presented PACE documents stating "the board's belief" that Savchenko holds immunity despite being charged with a crime allegedly committed before her election as a delegate.
Investigators consider that the immunity does not concern her actions prior to this status.
The Ukrainian Foreign Ministry shortly before the hearing again made an appeal to release Savchenko.
On May 5, investigation into Savchenko was extended until November 13, 2015Savchenko was arrested in Russia last summer on charges of complicity in the murder of two Russian TV journalists during hostilities in Donbas and on illegally crossing the border into Russia.
TV correspondent Igor Kornelyuk and sound engineer Anton Voloshin were killed on June 17 in a mortar attack.
Savchenko denies the allegations and claims that she was kidnapped in Ukraine and forcibly transported to Russia.
Savchenko went on hunger strike in mid-December in a protest against her prosecution. She ended an 83-day hunger strike in March but renewed it soon afterwards.