Russian court refuses to seize $7.1 million in assets from banker Gitelson, accomplices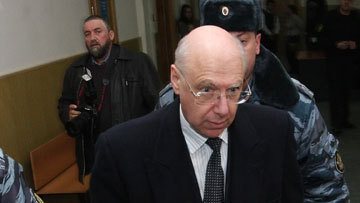 13:55 20/05/2015
MOSCOW, May 20 (RAPSI) – A commercial court in Yekaterinburg upheld a lower court ruling that declined to seize the assets totalling 350.2 million rubles ($7.1 million) belonging to former owner of the VEFK bank Alexander Gitelson and his two assistants, according to court records.
On November 19, 2014, the Commercial Court of the Sverdlovsk Region dismissed a petition filed by the Deposit Insurance Agency, the current bankruptcy receiver of EEFC-Ural Bank, to seize the property of three former top leaders of the bank. On March 11, 2015, a court of appeals upheld the Sverdlovsk court's decision.
The Deposit Insurance Agency (DIA) asked the court to seize the property of Gitelson, former chair of the bank's board Olga Chechushkova, and deputy chair Anatoly Kolmakov.
The DIA said they were concerned that the suspects would somehow dispose of their property, which would preclude the implementation of a court decision in its favor.
The DIA argued that the injunction would not infringe on the suspects' rights, that it would be an adequate move and that it would ensure the implementation of the court's decision to protect the plaintiff's interests. Nevertheless, the court rejected the DIA petition.
Gitelson was arrested in Austria in April 2013 and extradited to Russia in December.
In March, Gitelson was convicted and sentenced for embezzling over 2 billion rubles (about $39 million) in public funds from Inkasbank. A court in St. Petersburg also fined the banker 500,000 rubles (about $10,200).
In April 2011, Moscow's Meshchansky District Court sentenced Gitelson in absentia to five years in prison and a 1 million ruble ($20,300) fine for embezzling 495 million rubles ($10 million) from his acquaintance, MP Adnan Muzykayev.