Families of Moscow school shooting victims denied compensation - report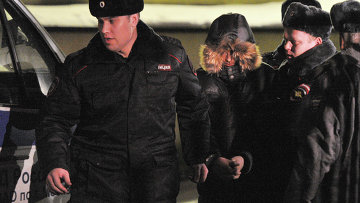 11:32 27/05/2015
MOSCOW, May 27 (RAPSI) – The families of the teacher and the police officer who were shot by a Moscow high school student in February 2014 will not be able to receive compensation from the shooter's father, Izvestia newspaper reported on Wednesday.
Investigators have not recognized the relatives of the shooting victims as the injured parties in the case on negliglent storage of firearms opened against Sergei Gordeev's father, according to the newpaper.
Investigators accuse Sergey Gordeev's father, a retired Interior Ministry official, of habitual negligence with regard to his hunting carbines, because his son knew that he kept the key to the gun safe in a chest of drawers. The teenager opened the safe, took the carbines and went on a shooting spree at his school.
On February 3, 2014, Gordeev, 15, made his way into his school with a rifle by threatening a guard who immediately called the police. Gordeev barged into a classroom where a geography teacher was giving a lesson and fatally shot him, and then held about 20 students hostage, according to investigators.
He also shot a police officer who arrived on the scene and wounded another one, according to investigators.
Investigators reported that he fired no less than 11 shots, wielding two carbines that were legally registered to his father. Gordeev was detained and officially charged with murder, intent to commit murder, and the taking of hostages.
Gordeev pleaded partially guilty. A psychiatric evaluation has found him insane.
In March 2015, Moscow's Butyrsky District Court found Gordeev guilty of the murder of two people and intent to commit murder and ordered him to undergo psychiatric treatment. Based on this ruling, the victims could file civil lawsuits against the boy's parents.
"The victims' petition to be recognized as victims in the case was rejected on the grounds that the case of negligent storage of firearms was heard separately from the school shooting case," lawyer Igor Trunov said as cited by Izvestia.
There were 25 victims in the shooting case, including 21 students, the mother and the wife of the murdered teacher, the wife of the murdered police officer, and Vladimir Krokhin, the wounded police officer.
The students said at the first court hearing that they have no material claims against the shooter or his father.
Krokhin, who received an out-of-court settlement (rumor puts it at about 500,000 rubles or $10,000), said he had no complaints against Gordeev's father.
However, the families of the killed teacher and police officer have filed civil lawsuits requesting that Gordeev's parents pay 3 million rubles (about $60,000) to each of the two families, the newspaper writes.