Russian court authorizes detention of Trust Bank ex-deputy chairman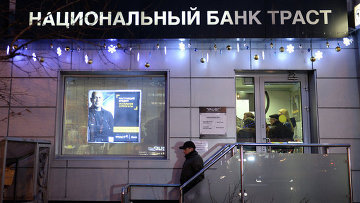 17:31 10/08/2015
MOSCOW, August 10 (RAPSI) - The Moscow City Court has upheld a detention extension for Oleg Dikusar, ex-deputy chairman of the board at Trust Bank, who is currently charged with embezzlement, the court's press service told RAPSI.
"The court did not grant an appeal to Dikusar's attorney and upheld the ruling of the Moscow Tverskoi District Court that extended the arrest until August 23," the statement says.
In late December 2014, the Central Bank of Russia decided to reorganize Trust Bank placing it under the temporary supervision of the Deposit Insurance Agency. FC Otkritie Bank, part of Otkritie Holding, was selected as a bridge bank. By the end of 2014, Trust Bank suffered a loss of 18.8 billion rubles ($293 mln).
Last April, the Ministry of the Interior announced that police had opened a criminal case against several managers of Trust Bank.
Dikusar may face up to 10 years in prison and is being investigated for involvement in several other crimes. The court also ordered the detention of Romakov until August 24.
The Tverskoy District Court of Moscow extended detention for Dikusar, charged with embezzlement, until August 23.