Investigation into Total CEO's plane crash completed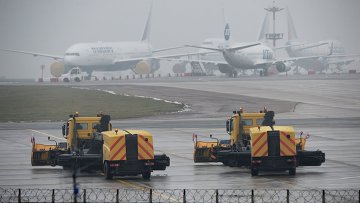 15:05 28/08/2015
MOSCOW, August 28 (RAPSI) – The investigation into the crash of Total CEO Christophe de Margerie's plane has been completed, Investigative Committee spokesman Vladimir Markin said on Friday.
Markin said the Falcon-50ЕХ crashed during takeoff after a wing scraped a snow plow that was being driven by Vladimir Martynenko. The plow entered the runway contrary to regulations in the absence of control by the chief shift engineer, Vladimir Ledenev.
Other factors in the crash included air traffic regulation violations by air traffic controllers, Markin said. The controllers, who could see the airfield on their monitors, failed to notify the pilot about the snow plow moving towards the runway and hence failed to prevent the crash.
"The air traffic controllers could have prevented the collision between the plane and the snow plow but failed to take the necessary action," Markin said.
Christophe de Margerie died in a plane crash at Vnukovo Airport in Moscow on October 21, 2014, when his plane's wing hit a snow plow. Among the victims were three crew members, all French citizens.
Lead airfield service engineer Vladimir Ledenev, snow plow driver Vladimir Martynenko and air traffic controller Alexander Kruglov were detained, while a traffic control intern, Svetlana Krivsun, and Airport Flight Manager Roman Dunayev were placed under house arrest. All of the defendants were charged.
Ledenev has pleaded guilty to charges of involvement in the crash.