Russian court imposes $15,500 fine on Spanish company for crab poaching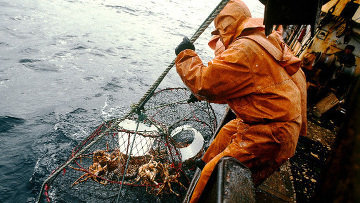 16:08 02/10/2015
MOSCOW, October 2 (RAPSI) - A Murmansk court has imposed a fine of one million rubles (about $15,500) on Mariscos Polar SL company, the owner of the Spanish ship Adexe Primero, that was seized for crab poaching, RIA Novosti reported on Friday citing the court's spokesperson Inna Zhelonkina.
The vessel was impounded by border officials on July 16 based on the suspicion that the crew was crab poaching. The small ship has been held in a Murmansk port for investigation.
In Murmansk, border officials detained the crab poachers and opened a case against Captain Blanco García Elías and the corporation, Mariscos Polar SL, for violating fishing rights law and regulations related to Russia's territorial waters, the continental shelf and its exclusive economic zone.
In late July, the ship was released on a 1.3 mln ruble ($20,000) bond.
The crew included 14 Russians, eight Ukrainians, five Moldavians and the Spanish captain.