Ex-head of Russia's Komi Republic to remain in detention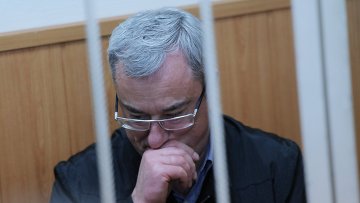 11:43 21/10/2015
MOSCOW, October 21 (RAPSI) – The Moscow City Court on Wednesday upheld the detention of Vyacheslav Gaizer, former head of Russia's Komi Republic who stands charged with fraud and organized crime related violations, RAPSI reported from the courtroom.
Gaizer will remain in jail until November 18.
Defense lawyer Oleg Lisayev asked the court to place his client under house arrest because Gaizer suffers from several diseases which may result in serious consequences such as infarct, stroke, gastrorrhagia or active gastric ulcer.
Earlier, the Investigative Committee reported terminating the activity of a criminal group led by the head of the Republic of Komi, Vyacheslav Gaizer.
Nineteen people are defendants in the case, including Gaizer's deputy Alexei Chernov and Igor Kovzel, Chairman of the Republican State Council, and Konstantin Romadanov, Deputy Chairman of the Komi government.
Gaizer denies the charges. Several high-ranking officials have been arrested in the fraud and organized crime case, as well as several business people that the Investigative Committee called "finance technologists."
During 80 searches in Komi, St. Petersburg and Moscow, the Investigative Committee and the Federal Security Service confiscated over 60 kg of jewelry, 150 watches worth $30,000 to $1 million each, over 50 stamps and seals from offshore corporations, and financial documents legalizing over 1 billion rubles ($16 mln) in stolen money transferred to the offshore zone.
Investigators have also opened against Gaizer a criminal case on money laundering.
On September 30, President Vladimir Putin signed a decree to relieve Gaizer of his duties because of loss of trust.