ECHR orders Russia to pay 32,000 euros to Moscow 2012 riots activist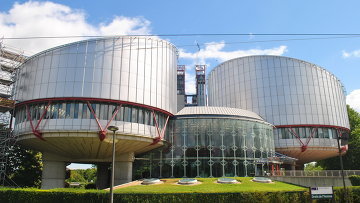 14:51 05/01/2016
MOSCOW, January 5 (RAPSI) - The European Court of Human Rights (ECHR) has ordered Russia to pay 32,000 euros in compensation to opposition activist Yevgeny Frumkin who took part in the riots on Bolotnaya Square on May 6, 2012, RIA Novosti reported Tuesday.
Frumkin filed an application with the ECHR on November 9, 2012. He complained of violating Article 3 (Prohibition on torture, and "inhuman or degrading treatment or punishment), Article 5 (Right to liberty and security of person), Article 6 (Right to a fair trial) and Article 11 (Freedom of assembly and association) of the European Convention on Human Rights.
The court held that there was violation of Article 5, Article 6 and Article 11.
Over 400 people were arrested and scores were injured in the authorized Bolotnaya Square protest that turned violent in May 2012. Dozens were later charged with inciting mass riots and battery against law enforcement officers.
Riot organizers Leonid Razvozzhayev and Sergei Udaltsov were sentenced to 4.5 years in prison each.
Other defendants in the case received prison terms ranging from suspended sentences to four years. Several defendants were pardoned; one is undergoing compulsory mental treatment.
In September, the ECHR ordered Russia to pay a total of 7,000 euros to Artem Savelov, Leonid Kovyazin, and Ilya Gushchin, three opposition activists who complained of their detention over mass protests in 2012 in central Moscow. That was the first ECHR ruling in the t in the Bolotnaya Square riots case.