Bolotnaya activist Margolin granted parole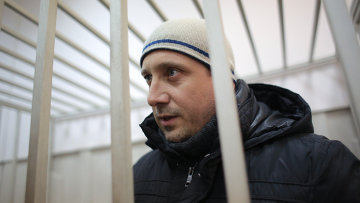 12:29 29/01/2016
MOSCOW, January 29 (RAPSI) – A court in the Ryazan Region has granted parole for Alexander Margolin who had been sentenced to 3.5 years in prison for participation in the riots on Bolotnaya Square on May 6, 2012, his lawyer Sergei Panchenko told RAPSI on Friday.
Prosecution has supported a motion for parole. Panchenko will be released from colony in ten days, the lawyer said. He has already served three years in prison.
Over 400 people were arrested and scores were injured in the authorized Bolotnaya Square protest that turned violent in May 2012. Dozens were later charged with inciting mass riots and battery against law enforcement officers.
Riot organizers Leonid Razvozzhayev and Sergei Udaltsov were sentenced to 4.5 years in prison each.
Other defendants in the case received prison terms ranging from suspended sentences to four years. Several defendants were pardoned; one is undergoing compulsory mental treatment.