Criminal case over Proton M rocket crash reaches court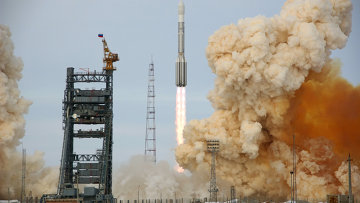 17:13 01/02/2017
MOSCOW, February 1 (RAPSI, Lyudmila Klenko) – A criminal case against employees of Energia Rocket and Space Corporation launched after 2010 crash of a Proton M rocket has reached the Korolev City Court of the Moscow Region, RAPSI learnt from the General Prosecutor Service's press-service on Wednesday.
Defendants in the case are Stanislav Balakin, Sergey Lomtev, Alexander Martynov and Yury Bolshigin. Investigators believe that these men were responsible for the crash, causing 4 billion rubles ($66.6 mln) of damage to the state.
On December 5, 2010, Proton M booster carrying three GLONASS-M satellites was launched from the Baikonur launch center. Initially the flight went well but at certain point rocket went off course and crashed into the Pacific Ocean.
Investigators believe that reason for the crash was application of a wrong formula, which resulted in putting additional 1.5 tons of liquid oxygen into rocket's oxidizer tank. Allegedly employees of the corporation received notification about mistake in calculations but dismissed it without solving the problem. According to investigators, engineers greenlighted launch of the rocket, knowing about the critical mistake.