Trust Bank ex-manager found guilty of embezzling $227 million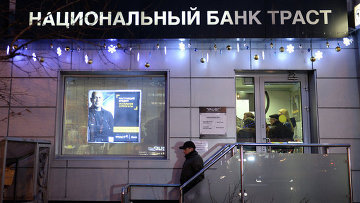 13:55 27/02/2017
MOSCOW, February 27 (RAPSI, Yevgeniya Sokolova) – The Basmanny District Court of Moscow has found former Trust Bank top manager Oleg Dikusar guilty of embezzling 14.6 billion rubles ($227 million), RAPSI learnt in the courtroom on Monday.
The court also found guilty the second defendant in the case, ex-deputy chairman of the board at Trust Bank and former bank's CFO Yevgeny Romakov.
Earlier, prosecutors have asked the court to sentence Dikusar, who stands charged with embezzling 14.6 billion rubles ($227 million), to 7.5 years behind bars.
Investigators believe that from 2012 to 2014, Dikusar and Romakov forged loan agreements with several Cyprus-based companies inflicting a 9.9 billion-ruble ($154 million) loss on the bank.
Moreover, between 2013 and 2014, Dikusar alienated a total of 4.6 billion rubles ($71.6 million) Eurobonds which were on the bank's balance sheet on behalf of Trust Bank owners.
Russia's Deposit Insurance Agency sustained large damages because it was required to compensate the embezzled funds to defrauded investors.
Midsized lender Trust Bank reported losses of 18.8 billion rubles ($293 million) in 2014 amid a financial crisis. As of December 1, 2014, its assets were estimated at over 290 billion rubles ($4.5 billion).
The Central Bank estimated that the bank's debts exceeded the value of its assets by 67.8 billion rubles ($1 billion).