Russian tycoon Deripaska rebukes arguments of Associated Press in libel case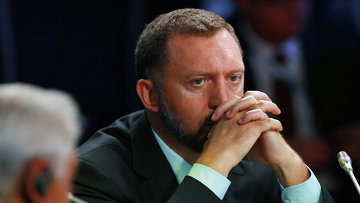 10:50 18/08/2017
MOSCOW, August 17 (RAPSI) – Lawyers representing Russian billionaire Oleg Deripaska have forwarded a memorandum to the United States District Court of Columbia arguing against a motion to dismiss defamation case against the Associated Press (AP) news agency, according to the case documents available to RAPSI.
In May, Deripaska lodged the libel suit against the Associated Press over an article called "AP Exclusive: Before Trump job, Manafort worked to aid Putin". He stated that this piece about alleged business relations between the businessman and Paul Manafort, a campaign manager for Donald Trump, contained false and defamatory statements. Russian tycoon believes that the article implied that his commercial dealings during the period from 2005 to 2009 were related to the election campaign of Donald Trump.
On July 3, the news agency filed a motion to dismiss the case. In particular, the Associated Press argued that Deripaska was "challenging the story based on his own "strained implications" and incorrect inferences." In addition, the Associated Press noted that Deripaska should be treated under the law as a "limited public figure" requiring him to prove that the authors of the story acted with malice in publishing the story.
The memorandum filed by the tycoon states that the Associated Press contradicts itself regarding subject of the published article. Deripaska asserts that the piece is explicitly concerned with alleged deal between Deripaska and Manafort seeking to implement pro-Russian strategy to benefit President Vladimir Putin. According to the plaintiff, the theme of the article, combined with several statements capable of containing defamatory meaning, is sufficient to claim defamation on his behalf.
Russian billionaire also noted that he does not have to prove malice because he is not a "limited public figure" within the limited scope of the article, although he is able to do that if necessary. Deripaska argued that the news agency failed to provide sufficient evidence to back statements made in the article and that in fact the Associated Press knew that the stated allegations were false when it published them. In addition, he does not claim "defamation by implication" but rather the "defamation" itself.
The initial lawsuit reads that later, in separate video, the Associated Press has "admitted" that relationship between Deripaska and Manafort was over before the election campaign began, yet the news agency did not distribute it along with the article. The Associated Press did not provide a public correction and retraction and other influential media organizations republished the article leaving readers under impression that Deripaska's dealings were related to controversy surrounding the election campaign, the claim reads.
According to the lawsuit, the Associated Press has also spread false information regarding Deripaska by alleging that he was involved in the theft of Ukrainian assets in 2014 and suggesting that his contacts with Manafort were intended "to basically undermine democratic movements."