Defendant in Kazan Cathedral terror attack plot case gets 2.5 years in prison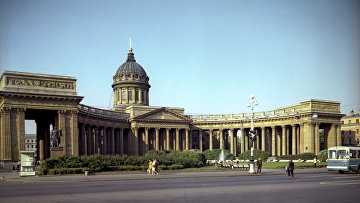 12:59 25/06/2018
ST. PETERSBURG, June 25 (RAPSI, Mikhail Telekhov) - A native of the Republic of Dagestan Shamil Omargadzhiyev involved in a criminal case over attempted terror attack in the Kazan Cathedral in St. Petersburg has been sentenced to 2.5 years in prison, the United press service of St. Petersburg courts has told RAPSI.
The man has been found guilty of failure to report a crime and illegal possession of the Kalashnikov assault rifle. Additionally, he was fined 50,000 rubles ($800).
Moreover, two other defendants in the case, Tajikistan's native Firuz Kalavurov and Ingushetia Republic's native Aliskhan Esmurziyev, are currently on trial, the press service said.
Russian national Yevgeny Yefimov, who stands charged with plotting the terror act, has discussed the attack's details with Omargadzhiyev, Kalavurov and Esmurziyev, case papers read. During the trial Omargadzhiyev pleaded guilty to failure to report the crime.
According to the Federal Security Service (FSB), seven members of the Islamic State terrorist organization (ISIS) banned in Russia were arrested on December 14. They allegedly planned to commit a terrorist attack with the participation of a suicide bomber in one of the monumental cathedral's in St. Petersburg on December 16.
Weapons, explosives, and extremist literature have been seized during searches at their premises. Moreover, a laboratory for preparing explosive bombs has been liquidated.
Yefimov told the court that had been preparing explosives for a suicide bomber, the United press service of St. Petersburg courts told RAPSI earlier.