Lukashenko warns Belarusian businesses against financing opposition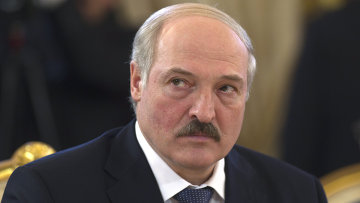 15:23 26/02/2013
MINSK, February 26 - RAPSI. Belarusian President Alexander Lukashenko has warned Belarusian businesses not to finance the opposition, while offering assistance to companies that support the nation's development.
"If any businesses provide financing to the fifth column or undermine society in any other way, I will consider them as having joined the anti-government political campaign," he said on Tuesday at the opening of a Council on the Development of Entrepreneurship meeting in Minsk. "They will only have themselves to blame."
He added that "any attempt to influence the authorities with the aim of obtaining protection from public officials or facilitating illegitimate activities will fail" .
According to Lukashenko's words, business leaders do not require protection from the authorities.
"Your job is to put up strong competition to gain the foothold that you need," Lukashenko stressed.
However, if businesses contribute to the nation's development, then their breakthrough initiatives will receive the government's support, he added.
The Council on the Development of Entrepreneurship is the only presidential council in Belarus, Lukashenko said.
According to Lukashenko's words, it was established at a time when many corrupt officials in law enforcement agencies and other public institutions tried to extort money from businesses in exchange for support and protection. They were equally eager to intimidate businesses and to see them fail in their activities.
Lukashenko stressed that he "did not want to see that.
"I wanted things to be honest and transparent," he said.
The council's major responsibility is to influence business leaders and to convey the government's policies to them, so as to balance the interests of businesses and society, to promote a civilized market, and to support the production of goods and services rather than speculative business.
Lukashenko said he also expects businesses to help modernize the public sector and attract foreign investment.