Lawmakers ask Constitutional Court to check protest law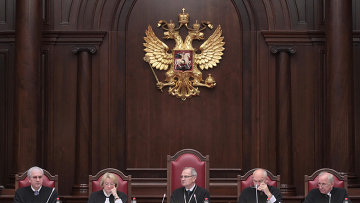 16:54 03/07/2012
MOSCOW, July 3 - RAPSI. The State Duma will submit an appeal to the Constitutional Court to check the law on increasing fines for violating rally procedures in terms of its compliance with the Constitution, A Just Russia party member Dmitry Gudkov told RIA Novosti.
Ninety deputies must provide their signatures in order to submit the request.
Gudkov said A Just Russia and Communist Party members have expressed interest in submitting their signatures.
"Thirty-six signatures from A Just Russia members have been collected," Gudkov said. He added that the signature collection process only started on Tuesday.
First, A Just Russia party members will provide their signatures and Communist Party members will follow, he said. He added that the request will be submitted to the court this week.
On June 5, the State Duma passed the draft law increasing fines for violating rally procedures and the Federation Council approved it the following day.
The draft was then signed into law by President Vladimir Putin.
The law has increased the fines by 10 times, stipulated compulsory community service for violators and prohibited the wearing of masks during protests. The maximum fine has risen to 300,000 rubles ($9,200) for private individuals and 600,000 rubles ($18,400) for public officials.
The law also cracks down on unauthorized rallies by prohibiting any mass actions organized under the guise of mass gatherings, or so-called "people's promenades," should they cause public unrest.