Putin signs law on tougher sanctions for unauthorized rallies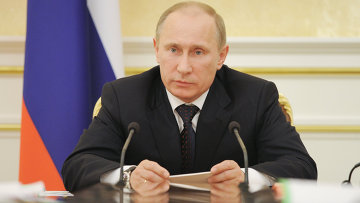 11:57 09/06/2012
MOSCOW, June 9 - RAPSI. President Vladimir Putin has announced that he has signed the law toughening punitive actions for breaching public order at rallies.
Putin issued this statement at the meeting on the development of the judicial system.
The State Duma passed the bill in the second and third readings on June 5 and the Federation Council approved it the following day. The bill was then submitted to the president.
The law hikes the fines for violating rally procedures up by ten times, stipulates compulsory community service for violators and prohibits the wearing of masks at protests.
The new law also cracks down on unauthorized rallies by prohibiting any mass actions organized in the guise of mass gatherings or so-called "promenades" if they cause any public unrest.
Many Russian politicians and political experts welcome the amendments. Meanwhile, experts of the presidential council for human rights have stressed in their report on the law that it runs counter to the Constitution.
The Kremlin's press office reported that the Administrative Code had been amended, with compulsory community service introduced as a new form of punishment.
Meanwhile, the maximum fine has risen to 300,000 rubles ($9,000) for private individuals and to 600,000 rubles ($16,000) for public officials. The statute of limitations for these offences is one year.