U.S. Congress in no rush to repeal Jackson-Vanik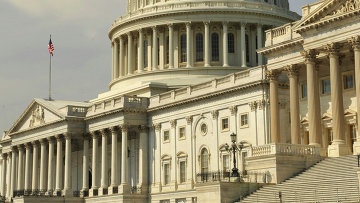 17:07 12/09/2012
WASHINGTON, September 12 - RAPSI. The U.S. Congress is still not ready to make a decision on the law on normalizing trade relations with Russia, Eric Cantor, the (Republican) House Majority Leader in the House of Representatives said.
The Jackson-Vanik amendment was adopted by Congress in 1974 and imposed restrictions on trade with the Soviet Union. The amendment was a response to the Soviet Union's lack of freedom to emigrate. Formally the amendment is still valid, however, since 1989, the United States has waived the act each year, and the current administration has promised to repeal it.
The U.S. Congress is considering a repeal of the amendment within the context of a resolution to place visa sanctions on officials involved in human rights violations, now known as the Magnitsky list. On July 18 the Senate merged the two measures into a single bill. The House of Representatives said it had determined to consider the repeal before the legislature's summer recess, which began in August, but postponed hearing the issue due to Republican opposition.
"Unfortunately, we don't have the necessary votes to change the law", Cantor told journalists on Tuesday, the first day back from the summer recess.
In July, a source in the Republican Party told RIA Novosti that the final vote on the law might be postponed until 2013 because of the upcoming national elections. David Camp, Chairman of the House Ways and Means Committee, and House Speaker John Boehner commented as well. According to the latter, the U.S. administration has not demonstrated the due level of support for the measure and must work with Congress more closely on the issue. Currently the measures for normalizing trade relations and the Magnitsky list are not on the House's September agenda. It may not be considered any earlier than November.
The Republican leaders did not specify exactly what they expect from the administration. The Department of State, the White House, the Office of the United States Trade Representative have never attended a Congressional hearing on the issue and have not called on the Congress to repeal Jackson-Vanik. The business community in the United States has been approaching the Congress with similar requests.