New law on blood donors enters into force in Russia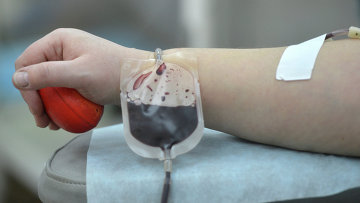 12:08 21/01/2013
MOSCOW, January 21 - RAPSI. A new Russian law on the donation of blood, which includes a provision banning the sale of blood, will enter into force on January 21.
It was adopted by the State Duma in July 2012 and approved by the Federation Council on July 18, 2012.
According to the new law, a blood bank will be created which will include information about the amount of donated, processed and stored blood and its components, citing the blood and Rh blood group, information about blood transfusions, and people forbidden to donate blood and it components following medical examinations.
The law further stipulates social support for donors.
Some media outlets and bloggers have claimed that by cancelling remuneration, the new law would result in a dramatic decrease in the number of donors and in shortages of blood components.
Oleg Salagay, press secretary of the Healthcare Minister, told RIA Novosti that non-remunerated blood donation is a global trend, but that blood donation will be remunerated in the case of rare blood groups.
He added that foreigners may continue to donate blood.