Russian senator proposes tougher liability for overlooking terror threat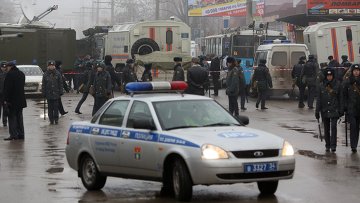 13:38 10/01/2014
MOSCOW, January 9 (RAPSI) – Russian Senator Konstantin Dobrynin has proposed criminalizing negligence by law enforcement officials in case such leads to the commission of a terrorist attack.
The proposed amendments to Russia's Criminal Code would target law enforcement officials whose negligence created the possibility or failed to prevent a terrorist attack. The proposed sentencing structure ranges between seven and 15 years in prison, as along with dishonorable discharge.
A series of terrorist attacks in the southern city of Volgograd, which is about 900 kilometers drive from Sochi, have frayed nerves among security officials in recent months as Russia prepares to host the Winter Olympics, due to begin on February 7.
No group has claimed responsibility for the attacks in Volgograd.
UN Security Council condemned the latest terror attack in Volgograd that caused numerous deaths and injuries. "The members of the Security Council underlined the need to bring perpetrators, organizers, financiers and sponsors of this reprehensible act of terrorism to justice, and urged all States, in accordance with their obligations under international law and relevant Security Council resolutions, to cooperate actively with all relevant authorities in this regar," a statement issued to the press reads.
UN Secretary-General Ban Ki-moon called for the perpetrators to be brought to justice.