Putin calls European Commission's Gazprom investigation "regrettable"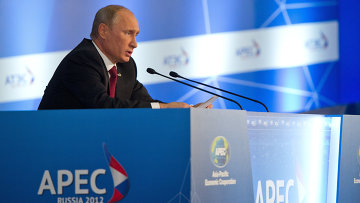 12:18 10/09/2012
VLADIVOSTOK, September 10 - RAPSI. Russian President Vladimir Putin is disappointed by the European Commission's Gazprom antitrust investigation, but does not believe a "trade war" is underway.
"I do not agree with that assessment of our relations with the European Union. We have very positive, constructive relations and these are not actions in battle. We are not in a trade war", the president said, responding to a journalist who had referred to "a cold war in trade" between Russia and the EU.
"What is going on with regard to Gazprom is not news to us. Last year, Gazprom's premises were searched and this is the second step in this direction. It is regrettable that we have got to this stage," Putin stressed.
"United Europe wants to maintain political clout and wants us to pay for this, to a certain extent. This is not a constructive approach," he said.
Putin said that the principles for setting gas prices were developed long ago. They were set out in long-term contracts and have never been disputed by any one before.
"It is clear that during this period of economic crisis, there is a wish to shift the financial load onto others. But I repeat, I do not think this kind of approach is constructive," Putin said.
The European Commission has opened an investigation into Gazprom's alleged breach of EU antitrust legislation, the commission reported earlier.
The commission's statement reads that it will investigate three possible anti-competition law violations in Central and Eastern Europe: impeding the free flow of gas across EU member states, preventing countries from diversifying their source of gas supply and imposing unfair prices on its customers by linking the price of natural gas to the price of oil.
The statement emphasizes that the case will be a high priority, but that this does not mean that any decisions have been predetermined.
The EU is concerned that Gazprom is in breach of Article 102 of the Treaty on the Functions of the European Union which defines the use of market domination to influence trade between EU member countries.
Experts believe that the European Commission is trying to control the market and hoping to make Gazprom shift from contract gas to spot gas supply. Gazprom believes that these new claims have been raised because it is the main supplier of pipeline gas to Europe.