Children as young as 11 must be tested for drugs, says FDCS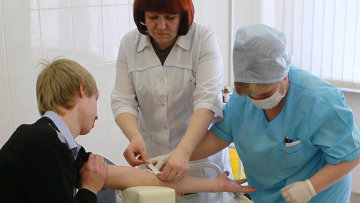 10:50 21/11/2012
MOSCOW, Nov 21 - RAPSI. The Federal Drug Control Service (FDCS) believes that children as young as 11-12 years old should be tested for drugs, Lieutenant Colonel Sergei Penkin, a representative of the drug watchdog, told the Russian Legal Information Agency (RAPSI/rapsinews.com) on Tuesday.
As previously reported, the government has put forward a draft law on drug tests for schoolchildren.
"Im not sure about ten year olds, but testing children aged 11-12 would be a reasonable measure, I think," Lieutenant Colonel Sergei Penkin told Echo of Moscow radio station.
The proposal to test children for drugs was first put forward in September 2009. Later, Viktor Ivanov, Head of the Federal Drug Control Service and Anti-Drug Committee, announced that Russian schoolchildren would be required to take drug tests starting from 2010 and that the issue had been settled. These checks were included in the government strategy for preventing substance abuse. The announcement provoked a heated discussion among the public. Many public figures and officials were against the measure. Eventually, voluntary drug tests were introduced for children aged 12-17 in several regions.