Publisher suspends sale of books on Pussy Riot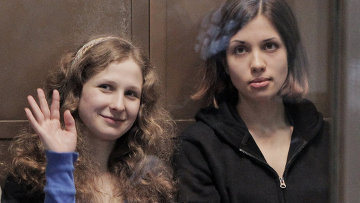 10:06 27/11/2012
MOSCOW, November 27 - RAPSI. The Eksmo publishing house has suspended the sale of book "PUSSY RIOT. What was it all about?" because the lawfulness of the publication is in doubt, Eksmo's press service reported on Monday.
Last Friday, Eksmo said that it will stop selling the book if Algoritm, the company which published the book, does not confirm that it has the rights to publish it. However, on Monday, Eksmo, Russias largest publisher, decided to suspend sales without waiting for a reply.
Comments given to the press by Algoritm representatives have implied that the publication of "PUSSY RIOT. What was it all about?" was in violation of Russian law, according to Eksmos statement.
Algoritm will have to provide documents confirming it holds the publishing rights to the book if it wants Eksmo to continue selling the book. Otherwise, Eksmo will terminate the deal.
Information on the book has been posted on the Eksmo publisher's website, whose representatives told RIA Novosti that the book was a joint project with Algoritm.
Eksmo's website features a description of the book dated October 31 which says that it "provides the answers to many of the questions raised by the protest act at the Christ the Savior Cathedral which divided society into two camps - implacable opponents of the group and staunch supporters. And most importantly, the book addresses the key question for everyone - what was it all about?"