Lithuania freezes bank accounts related to Magnitsky case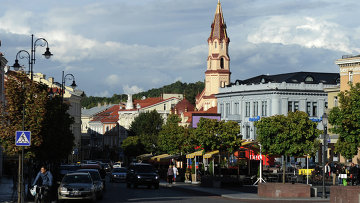 13:04 22/01/2013
VILNIUS, January 22 - RAPSI, Irina Pavlova. The Lithuanian authorities have frozen several bank accounts as part of the case of embezzled budget funds, exposed by Hermitage Capital lawyer Sergei Magnitsky, who died in the Matrosskaya Tishina prison in 2009.
Prior to his death in a Moscow pre-trial detention center, the Hermitage Capital lawyer claimed that Russian tax officials had stolen $230 million from the company and laundered the funds through various European banks. Russia has refuted the accusations on numerous occasions.
Last summer, Hermitage Capital sent requests to the prosecutor's offices of six countries to freeze accounts held at banks which are thought to have transferred the embezzled funds in 2008. Hermitage Capital believes that banks in Latvia, Estonia, Lithuania, Austria, Finland and Cyprus were involved. The Lithuanian Prosecutor General's Office launched a pretrial investigation the day after receiving Hermitage Capital's emailed request.
"We have frozen the accounts of all the offshore companies which made transactions through Ukio Bankas. This was done on September 28, when the case was transferred to us from the Prosecutor General's Office, as the bank is headquartered on our city. The point at issue is a relatively small sum of up to $100,000," Kaunas Prosecutor Donatas Puzinas told RIA Novosti on Tuesday. He said there are no suspects in the case and that all accounts were managed from Russia and Ukraine, where they were opened at local branches of Ukio Bankas. So far, no Lithuanian nationals are involved in the case.
"Around $13 million were transferred through offshore companies' accounts with Ukio Bankas. Under Lithuanian legislation, if funds can be proved to have come from criminal dealings, this same amount can be subsequently confiscated from the given company. We are also investigating the bank for possible involvement in this crime," Prosecutor Puzinas said.
He added that a decision would be made about the frozen assets upon the investigation's completion.
On November 24, 2008, Magnitsky was arrested on suspicion of masterminding large-scale corporate tax evasion. He died in Butyrka pretrial detention center on November 16, 2009 after spending a year behind bars. According to the Prosecutor General's Office, his death was caused by cardiovascular problems. His death triggered amendments to the Criminal Code and a reshuffling of officials in the penal system. Investigators accused Magnitsky and his accomplices stole hundreds of millions of rubles from the state budget by manipulating tax returns between September and October 2007.