Poland resumes investigation of President Kaczynski's plane crash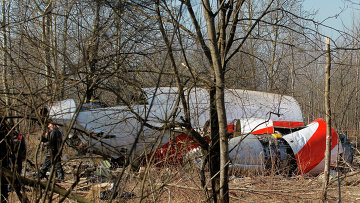 10:06 21/03/2013
WARSAW, March 21 - RAPSI, Yevgeny Bezeka. A Polish court has quashed the decision taken last year by the prosecutors office to close the case of alleged violations of flight rules during the preparation of President Lech Kaczynskis visit to Smolensk on April 10, 2010, PAP Polish Press Agency reports.
The prosecutors said they did not find signs of any crime. The daughter of the late president Marta Kaczynska and his brother Jaroslaw Kaczynski filed an appeal against this ruling.
The Polish authorities investigated the actions of the prime ministers and the presidents secretariat and the ministries of foreign affairs and defense. Military prosecutors are currently investigating the potential involvement of military personnel, because the plane that crashed belonged to the Defense Ministry. The case involving civilians was investigated separately. It was turned over to the district prosecutors office in Warsaw in 2011 and closed in June 2012.
The prosecutors looked into the preparations of the two official Polish visits to Smolensk, one by Prime Minister Donald Tusk on April 7, 2010, and the other by President Lech Kaczynski on April 10, 2010. They uncovered a number of violations committed by officials, but concluded that legally none of these constituted a crime of negligence.
A Polish Tu-154 plane carrying former President Lech Kaczynski, his wife, and a large group of high-ranking officials crashed near Smolensk due to thick fog on April 10, 2010, killing 96 people. The Moscow-based Interstate Aviation Committee issued a final report in late July 2011, placing the blame entirely on the Polish crew. Meanwhile, Poland, which carried out a separate investigation, partially blamed the Russian air traffic controllers for the tragedy.