Anti-Kremlin figure Navalny sets sights on presidency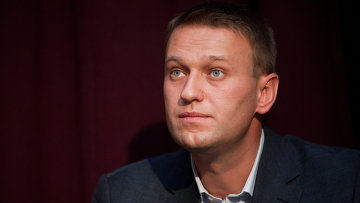 12:22 05/04/2013
MOSCOW, April 5 – RAPSI. The charismatic Russian opposition leader Alexei Navalny, who is due to stand trial later this month, has declared his ambition to run for presidency.
"I want to change life in the country," Navalny, a prominent whistleblower, told Dozhd internet TV channel on Thursday night. He said that if he became Russia's president, his priority would be to help people who "have oil and gas running out of the ground not to live in poverty" and "live a normal life like in a European country."
Navalny also said in the interview that he expected to be convicted in the embezzlement case that will start later this month in the Kirov Region, where he served as a local governor's aide in 2009. His pro-opposition supporters maintain that the case is politically motivated. If convicted, he faces up to ten years in prison, and will be ineligible for public office even if slapped with probation.
"Like any normal person, I don't have the slightest desire to end up in jail," Navalny said in the interview.
Navalny is not affiliated to any party, but has been seen as one of the most popular non-establishment anti-Kremlin figures in Russia. He gained fame due to his anti-corruption campaigns against ruling officials and eloquent speeches at mass opposition rallies that kicked off at the end of 2011.
A poll published Thursday by the independent Levada Center showed that his name is still little known among the population, with just 37 percent of Russians aware of Navalny, while only 14 percent said they would likely vote for him.