Putin vows opposition whistleblower Navalny will receive fair trial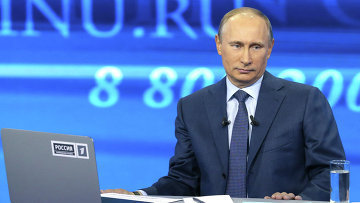 17:23 25/04/2013
MOSCOW, April 25 (RAPSI) - Russian President Vladimir Putin spoke of his certainty Thursday that the trial of opposition whistleblower Alexei Navalny will be objective and fair.
"I am sure that the trial over this and other cases will be as objective as possible. I have directed the General Prosecutor's Office and other law enforcement bodies to this effect," the President said during the televised question and answer session.
Putin emphasized that people who combat corruption have to account for their own actions. "Otherwise, this looks like self-promotion and political advertising. Everyone has to be equal before the law; and no-one should have the illusion that if he shouts 'Stop that thief!' he can get away with stealing himself," the President said.
"But this does not mean that if a person has certain views different from those of the current authorities, that every reason can be used to take him to court and then put him in prison," Putin added.
Navalny is a Yale-educated political activist. He became famous in Russia as a whistleblowing blogger striving to expose corrupt practices. He then gained recognition for his leading role in the opposition movement that rocked Russia from late 2011 to mid-2012.
According to investigators, while serving on a voluntary basis as an adviser to the Kirov region governor, Navalny organized the theft of over 10,000 cubic meters of timber. It was allegedly stolen from Kirovles company between May and September 2009 in collusion with Vyatka Timber Company Director Pyotr Ofitserov and Kirovles CEO Vyacheslav Opalyov.
The regional budget is estimated to have suffered a loss of 16 million rubles ($514,140) as a result.
If convicted Navalny along with Ofitserov faces up to ten years in prison, and will be ineligible for public office even if only slapped with probation. Opalyov, who has entered into an agreement with the prosecution, was handed a 4-year suspended sentence.